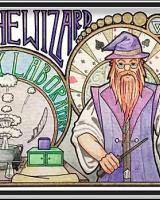 This is a virtual, online program that is viewed on YouTube through the end of August. Watch here:
Alchemy class is about to begin! Magical secrets are about to be shared! Enter the Alchemy Laboratory of Ed the Wizard. Watch and learn as we perform vanishes, transfigurations, and other feats of magic with everyday items found at home.
This program is ideal for grades 1-12.  Using three of the four Classical Greek Elements, Earth, Wind, Water, (sorry, no Fire), learn how to change the properties of water, look though solid objects, and defy gravity.    Students are challenged with questions about Alchemy, Scientific Principles, and their general knowledge of the physical world.