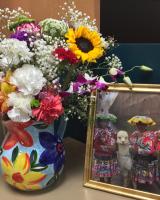 It may be the middle of winter outside, but step into the Richards Memorial Library in February for a Spring-time feel during our Art in Bloom event on Feb 22nd!
Art in Bloom seeks to 'interpret" art with a flower arrangement and the art to be interpreted will be Kira Seamon's popular photography. She took an exciting, once-in-a-lifetime trip to Peru and we will interpret some of these fascinating vibrant photos with flowers. Kira also is known for her kaleidoscopic photography which looks like beautiful abstract art. She rounds off the display with her traditional photography of popular subjects such as landscapes and sunsets.
We are featuring a special hands-on floral arranging workshop on Saturday, February 22nd, where patrons can try their hand at interpreting Kira's art! We will have a veritable buffet of flowers to choose from, impressing everyone with both quantity and quality of blooms. Kira provides the art, scissors, flowers and vases and we will create beautiful arrangements that will be displayed around the library for a week afterwards, allowing many more patrons to enjoy a bit of Springtime!
SPACE IS LIMITED! RESERVE YOUR SPOT TODAY!

This program is supported in part by a grant from the North Attleboro Cultural Council, a local agency which is supported by the Mass Cultural Council, a state agency.
A nineteen-time grant recipient from area Cultural Councils, Kira is excited to make her solo museum debut in nearby Attleboro Arts Museum in their Community Gallery in February! She recently sold her art there at their Members' Exhibit and is thrilled to have become a Finalist for their 8 Visions Exhibit in summer 2020! Her work has  been seen in a full page of the WellesleyWeston Magazine, called the "Last but not Least" section, and on the Instagram page of Art New England Magazine. She also exhibited with the Griffin Museum of Photography in their Winter Solstice Member's exhibit in December 2017 and 2018. She won Third Place in a juried art show at the Norwood Art Association's Art in the Park for photography in 2018 and 2019.
She won the 2018 Mass Horticultural Society's Photography Competition for Images featuring People.
She was accepted and sold her art at the Blanche Ames National Juried Art Exhibition 2018 and 2019. She is the 2019 Artist-In-Residence for the Town of Natick, Natick Center Cultural District, where she organized and ran a town-wide Art in Bloom event in November.
She has done 31 Gallery Talks statewide and celebrated her 24th One Woman Concert this year as well as her 9th Annual Thanksgiving Photography Exhibit in Dedham.
Her work has been filmed by Westwood, Wellesley, Easton, Cambridge and Dedham Public TV, which also produced and aired a 1.5 hour documentary on her art.