Grade 4-7
Blended, Sharon Draper
Piano-prodigy Isabella, eleven, whose black father and white mother struggle to share custody, never feels whole, especially as racial tensions affect her school, her parents both become engaged, and she and her stepbrother are stopped by police.
, Jewell Parker Rhodes

Twelve-year-old Jerome is shot by a police officer who mistakes his toy gun for a real threat. As a ghost, he observes the devesation that's been unleased on his family and community in the wake of what they see as an unjust and brutal killing.
E-book  and  E-Audiobook
Grade 8 and up

Loving VS. Virginia: A documentary novel of the landmark civil rights case, Patricia Hruby Powell

Written in blank verse, the story of Mildred Loving, an African American girl, and Richard Loving, a Caucasian boy, who challenge the Viriginia law forbidding interracial marriages in the 1950s.
 Grades 9-12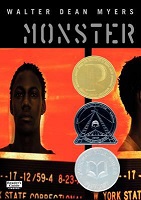 Monster, Walter Dean Myers
The story of a young man accused of being an accomplice to murder chronicles his thoughts throughout the trial as an emotionally moving film script. 
 E-book and E-Audiobook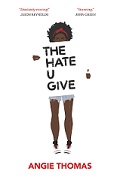 The Hate You Give, Angie Thomas 

A teenage girl grapples with racism, police brutality, and activism after witnessing her black friend murdered by the police.
All American Boys, Jason Reynolds
After a misunderstanding in a convenience store, a young black man is horrifically beaten up by a police officer and one of the only witnesses is a white classmate, who also happens to know the police officer well. 
Dear Martin, Nic Stone
Justyce goes driving with his best friend, Manny, windows rolled down, music turned up—way up, sparking the fury of a white off-duty cop beside them. Words fly. Shots are fired. Justyce and Manny are caught in the crosshairs. In the media fallout, it's Justyce who is under attack.

Anger Is A Gift, Mark Oshiro
Six years ago, Moss Jefferies' father was murdered by an Oakland police officer. Moss and his fellow classmates find themselves increasingly treated like criminals in their own school. Constant intimidation and Oakland Police Department stationed in their halls. Despite their youth, the students decide to organize and push back against the administration. Moss must face a difficult choice: give in to fear and hate or realize that anger can actually be a gift.
Stamped: Racism, Anti-Racism, and You, Jason Reynolds and Ibram X. Kendi

This remarkable reimagining of Dr. Ibram X. Kendi's National Book Award-winning Stamped from the Beginning reveals the history of racist ideas in America, and inspires hope for an antiracist future.
Nonfiction
It's Trevor Noah: Born a Crime: Stories from a South African Childhood (adapted for young readers),

Trevor Noah
The host of The Daily Show, Trevor Noah, tells the story of growing up half black, half white in South Africa under and after apartheid
March, Book 1, John Lewis (Non-fiction)
This vivid graphic novel chronicles the story of Georgia Congressman John Lewis' political awakening as a young man, through his participation and leadership in the Civil Rights Movement.
The March Against Fear: the last great walk of the civil rights movement and the emergence of Black power, Ann Bausum 
When they call you a terrorist : a Black Lives Matter memoir, Patrisse Khan-Cullors and Asha Bandele
A memoir by the co-founder of the Black Lives Matter movement explains the movement's position of love, humanity, and justice, challenging perspectives that have negatively labeled the movement's activists while calling for essential political changes.
, Dashka Slater (Non-fiction)
Sasha, a white teen, lived in the middle-class foothills and attended a small private school. Richard, a black teen, lived in the crime-plagued flatlands and attended a large public one. Each day, their paths overlapped for a mere eight minutes. But one afternoon on the bus ride home from school, a single reckless act left Sasha severely burned, and Richard charged with two hate crimes and facing life imprisonment.
Sure, I'll Be Your Black Friend, Ben Philippe (Non-fiction)

In an era in which "I have many black friends" is often a medal of Wokeness, Ben hilariously chronicles the experience of being on the receiving end of those fist bumps. He takes us through his immigrant childhood, from wanting nothing more than friends to sit with at lunch, to his awkward teenage years, to college in the age of Obama, and adulthood in the Trump administration—two sides of the same American coin.