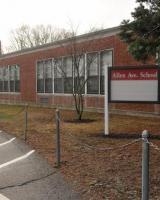 The Friends of Richards Memorial Library are happy to announce our Annual Book Sale will be happening on June 24

th
, 25
th
, and 26
th

at Allen Avenue School, 290 Allen Avenue, North Attleboro.
The hours for the sale will be Thursday the 24

th
, 4pm -7pm, Friday the 25
th
: 2pm -7pm, Saturday the 26th: 10am-2pm.  The state of emergency will be lifted June 15
th

, but masks will be a personal choice and encouraged for those at high risk.
This will be a fabulous Bag Sale!  Our durable, (printed with a picture of the Library) cloth book bags will be available for $10 a bag and just $5 more to fill it!  Brown grocery bags can  be filled at $5 a bag as well.  These are for books only; DVDs and CDs will be their usual $1 each.
Due to the current health crisis, we are waiving the Friends membership fee for the second year in a row.  Usually, the cost of membership is $20 per individual and $25 per family.  Of course, donations are always welcome!  We use the monies raised through our various fundraisers to support our Library, paying for such things as public computer access, various programs for both adults and children, museum passes and much more.
We will not be having our usual delicious Bake Sale or the ever-popular Raffle this year.
Contact:
friendsofrml118@gmail.com