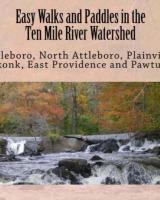 Thursday, June 14th, at 7 pm, be sure to visit the North Attleboro Public Library when author Marjorie Turner Hollman and other members of the Ten Mile River Watershed Council share pictures from natural places in North Attleboro and other outdoor spots in nearby towns. Get a taste of what is included in their new publication, Easy Walks and Paddles in the Ten Mile River Watershed.
Looking for places to walk with your family and/or friends, or with your dog? Hoping to spend time in the outdoors on a trail that is ADA accessible? Or maybe you have a canoe or kayak but don't know how to find safe canoe launches. You'll find information to satisfy all these needs, and more, with maps to each trail head, inside this book. The river travels through Plainville, North Attleboro, Attleboro, and Seekonk, MA, and Pawtucket, and East Providence, Rhode Island, before reaching the Seekonk River, at Omega Falls.
Members of the Ten Mile River Watershed Council worked together with Marjorie Turner Hollman, author of two other books in the "Easy Walks" book series, to create this guide to outdoor spaces in the towns that host "their" river. The group offers regular river cleanup efforts, as well as group walks, open to the public.
Books will be available for purchase after the presentation.
Registration is encouraged by calling the Library or emailing.
Read about the Ten Mile River in The Sun Chronicle.